VIDEO ANALYSIS & TECHNIQUE TRAINING
Are you suffering from recurring running injuries?
One of the biggest frustrations for a runner is not being able to run! If you are finding you spend more time trying to resolve your running injury than out on the road running then it is time to dig into your running form. Injuries will settle down with rest, you can build strength, improve control and stability, however if you return to your old running form then there is a very good chance your pain will return again. You need to break the cycle.
Are you keen to improve your running speed?
Every runner has goals, ambition to improve. Maybe you are targeting the distances you run, how often you run each week or maybe you are keen to improve your speed. Can you achieve that PB this year? It may well be that you are working towards a key race or maybe you compete in multi-sport events, where your running efficency is key to your race results.
A Running Analysis can help you understand your running form strengths and weaknesses, and allow you to take strides towards your individual goals.
During your Running Analysis
About the Running Coaches at BLH
Your Pathway to change your Running Form
Click the button below to go to our booking form, send us a message from the form on this page, or give us a call on 020 7924 6068 to discuss any questions you have prior to booking.
Running Video

Analysis - Overview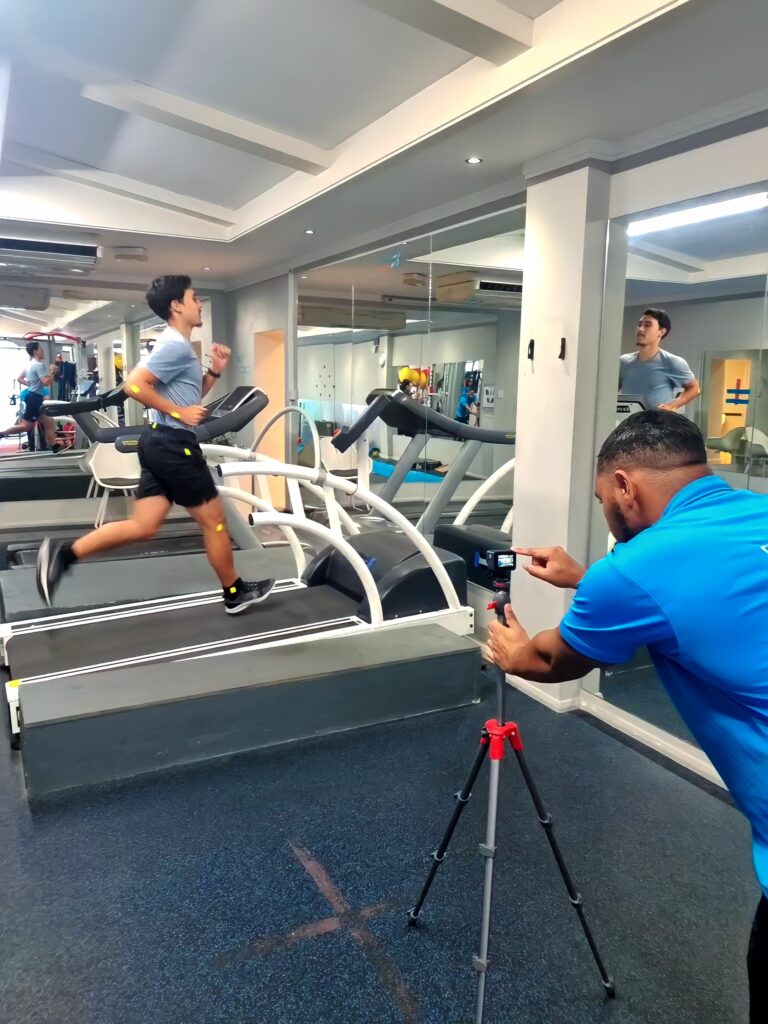 If you suffer from recurring running injuries, or you are interested in improving your running performance then a video running analysis is a must. You will understand the strengths and weaknesses of your current running patterns, get top tips to make small changes and understand the journey required to develop into a better runner. You will also receive a video report of your session for future reference.
The running analysis helps you understand how you run, with the running specific Movement Screen, you will understand how you move. This will allow you to understand where issues are your running skill, or are movement issues related to how you move.
You will get a full report explaining the issues and key exercises to get you on the right track.
Technique Development Sessions
If you are suffering from injury or are keen to improve your running performance then running technique sessions are the first step for everyone, of all levels. With this package you can complete the running analysis and movement screen, and then jump straight into your running technique training, You need to build the basic understanding and movement patterns of an improved running technique before you can build speed and endurance. To find out more about our different training programmes to improve your running foundation head to the
Running Technique page.
Junior athletes are the sporting future so their development and training is so important to manage correctly. Our performance team will assess and evaluate each individual, reviewing movement, running, strength and co-ordination to put a plan in place to discuss with the family the best pathway forward for the athlete. Installing the right movement patterns now has huge benefits for life in the future. For further information on our Athletic Development programmes please head to our Performance website;
Youth Athletic Development
How can we help you with your running?
You would like to develop your running speed, or, injury is preventing you from being a runner
The foundation of your running technique is paramount to your ability to achieve your goals, whether that is being able to run or if your goal is to improve your speed and run faster. Building the foundation requires analysis of your current running technique, and this is where your running video analysis can be so beneficial for you and our team.
It is one of two parts of our full running analysis, along with the Running Movement Screen, the idea is to build a complete picture of how you run and how you move. Our team will then analyse the data and develop a plan to build on your strengths and improve your weaknesses, creating a better runner.
During the Running Analysis you will be taken through a general running history to build up an understanding of your current levels and standards. Your specialist running coach will then take you through a warm up and build your awareness of using the treadmill. You will then be videoed on our treadmills from two angles, behind and side views. Once in the Running Performance Analysis room your coach will take you through your video and discuss the strengths and weaknesses of your running technique.
Often for our runners this is a real eye opening experience. To see and understand how they are running, the visual feedback can really enhance the learning process and lead to amazing results once the coaching phase begins.
Book your running analysis session and discover more about your running style.
Pricing

For Running Analysis & Technique Sessions
45 Minute
Video Analysis Only
Running Video Analysis Session

Introduction to the treadmill, session discussion and history of your running. Our running coaches will then complete x2 videos of you running on the treadmill, then into our performance room to review your videos on the TV & discuss your strengths and weaknesses.
Discovery Sessions
3 Session Running Analysis & Introduction of Technique
Short Running Movement Screen.

Final Video of Running Progress

Keen to develop your running skill and understand your current running form?. The place to start, Step 1. Build your running technique and movement patterns. Our running discovery sessions are the ideal place to get you understanding the key areas of running technique.
Ready to start your recovery?
Wondering how we can help you? Give us a call and one of our expert team will be happy to answer all your questions!