'Achievement isn't defined by the goal it's defined by the work you did to achieve it'
We are very lucky to have worked with many amazing clients over the years. About 10 years ago I first reviewed Felix following his surgery in America to help with his Cerebral Palsy and was challenged to help improve his movement. This is a journey that has been amazing to be part of, both personally and for the many in our team who have worked with Felix through the years.
Felix is a bundle of energy when he comes into the clinic, and it was a pleasure to work in those early days at helping him work towards his movement goals. I have to say he worked hard, but every session was full of jokes and laughter. It started with early conversations as Felix pushed the sled in the gym, imaging walking towards the south Pole.
Little did I realise the challenges he would move on to undertake, and it has been great to be able to help Felix with each challenge, the latest a 3-day rowing challenge on a Concept II. So this month Felix has shared his latest experience with us, which should inspire everyone, I will let him take up the story;
My Journey at Body Logic Health started when I was 10, I had just transitioned to the rehabilitation phase after undergoing a major operation, which helped remedy some of the adverse effects of my disability, cerebral palsy – it was my first taste of freedom.
In my experience, growing up as someone with a disability, there were few opportunities to challenge yourself, to achieve the little things that are so important for self-confidence. Most of this lack of opportunity comes from goodwill, from people wanting to help, but it left me feeling more like an object for people's sympathy and compassion and not a person with their own ambitions, drives and motivations. Body Logic and the people there were the first step to changing that. A couple of weeks ago I rowed 150 miles in 3 days on an indoor rower and 3 years ago I rowed the Irish Sea, these are all accomplishments which Body Logic, in a large part, helped me complete. Not only did they help me capitalise on the improvement in my physical abilities, working with me daily to ensure certain unused muscles had the chance to catch up; they were some of the first people in my life who saw me as something more as just the kid in the wheelchair, to them I was just Felix – and that meant the world.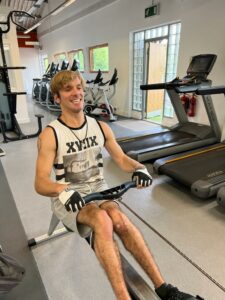 Rehab, physio and personal training are about so much more than getting your body right, it's about getting your mind right too. The people at Body Logic are professionals, I knew they wouldn't set unachievable goals and this was my first realisation that what I thought of as unachievable, was merely my lack of self-belief and in reality, my disability wasn't as crippling as I once had thought. Of course, we are stuck within certain physical bounds – you probably won't see me running, but achievement isn't defined by the goal it's defined by the work you did to achieve it. To that end 15 kilometres is just as impressive as 150 miles, it's all about context. Body Logic understood that, they didn't think less of my goals at the start just because they weren't as big. Body Logic was there for progress and progress will always mean more to me than any achievement. In short, they gave me the body to achieve my goals, but more importantly they helped me believe in myself. In many ways 10 years on I feel part of a family and I consider it a privilege to have had them accompany me on my journey for so many years.
Felix Daglish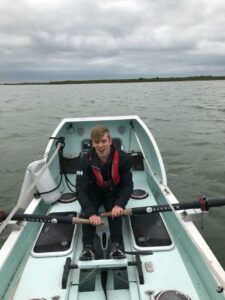 I understand the next challenge is already in the planning and I am hoping to join Felix as he takes on Land's End to John O'Groats cycling challenge next summer.